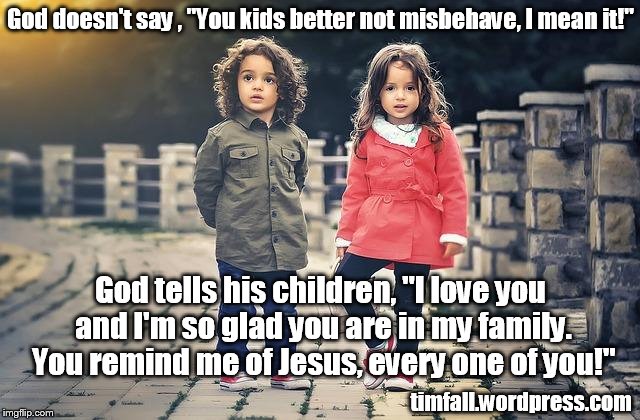 God the father sees you the same way he looks upon Jesus because you have the very same glory Jesus has, and God loves you with the very same love he loves Jesus with.
I have given them the glory that you gave me, that they may be one as we are one – I in them and you in me – so that they may be brought to complete unity. Then the world will know that you sent me and have loved them even as you have loved me. (John 17:22-23.)
Jesus was clear: God already loves you, his child, even as he loves Jesus. This is something that brings God glory and it is fully in you now.
For in Christ all the fullness of the Deity lives in bodily form, and in Christ you have been brought to fullness. (Colossians 2:9-10.)
God's will is already fulfilled in you by Jesus, the will that desires and makes you truly holy in his sight right now because of Jesus' sacrifice.
And by [God's] will, we have been made holy through the sacrifice of the body of Jesus Christ once for all. (Hebrews 10:10.)
God your Father looks on you with the same love he has had had for Jesus, God the Son, for all eternity. And it is eternally yours now too. It doesn't depend on whether you are good enough, or remember not to sin, or feel really bad when you do wrong things. It depends on much more than that.
It depends on Jesus.
The good news of the gospel of Jesus is that everything you need to depend on him has already been done and it will never be undone. You are your Heavenly Father's beloved child in this very moment and forever.
***
God doesn't say, "You kids better not misbehave, I mean it!"
God tells his children, "I love you and I am so glad you are in my family. You remind me of Jesus, every one of you!"
***