This happened to me last week: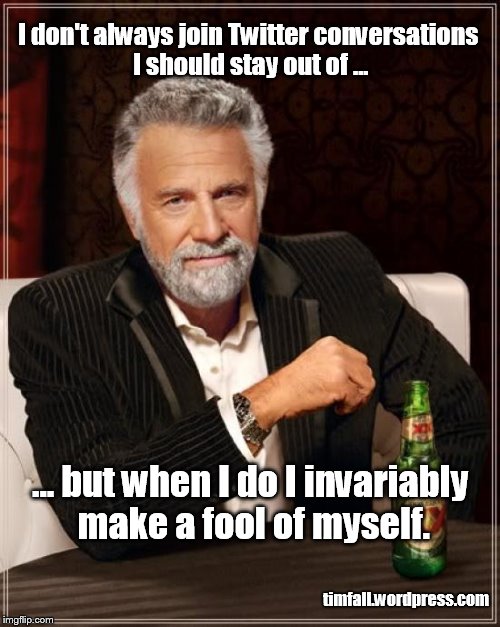 It took me a couple of tweets to see the trap I'd fallen into. I looked around me and saw that I was in a miry place I could not get out of without effort. So I made the effort, remembering a couple things I learned from Scripture:
If it is possible, as far as it depends on you, live at peace with everyone. (Romans 12:18.)

and,
A gentle answer turns away wrath,
    but a harsh word stirs up anger. (Proverbs 15:1.)

I decided the best thing to do was say I'm sorry and delete the offending tweets I'd posted.
So I did.
I don't know if the other person saw the apology or noticed that I deleted the tweets she objected to, and I'll probably never know. She'd already blocked me.
God Doesn't Block
I find myself falling into traps all the time, usually of my own making. Whether it's a trap I've created or one sprung on me it can be hard to get out. When it comes to the trap of sin, I find I'm positively stuck if left to my own devices.
King David felt the same:
I waited patiently for the Lord;
    he turned to me and heard my cry.
He lifted me out of the slimy pit,
    out of the mud and mire;
he set my feet on a rock
    and gave me a firm place to stand.
(Psalm 40:1-2.)

Some of the pits David found himself in were of his own design (dealing with the consequences of taking Bathsheba – the wife of one of his favored warriors – into his bed) and some were sprung by others (Saul plotting to kill David). Regardless, David knew that when it came to getting out of the muck and mire in that pit he needed God's help.
God did not leave David there, blocking off his pleas when David put himself there in the first place. Rather, God reached down, pulled David from the mire, and placed him on solid ground.
Jesus place everyone who belongs to him on solid ground:
They are like a man building a house, who dug down deep and laid the foundation on rock. When a flood came, the torrent struck that house but could not shake it, because it was well built. (Luke 6:48.)

Jesus also said he will never forsake you:
And surely I am with you always, to the very end of the age. (Matthew 28:20.)

Always means always. And then what happens when Jesus returns at the end of the age we presently live in?
I will come back and take you to be with me that you also may be where I am. (John 14:3.)

No matter what pit you find yourself feeling trapped in, Jesus will pull you out, he will set you on solid ground, and he is with you whether down in the pit or lifting you up with him.
***